Overview
The Department of Management at UT Arlington includes a multidisciplinary group of scholar practitioners doing leading-edge research and teaching. We teach undergraduate and graduate courses in the fields of organizational behavior, leadership, human resource management, strategy and entrepreneurship.
Our world-class faculty is an accomplished group with a wide range of industry and academic experience. We are dedicated to advancing student's careers with excellent education opportunities and advancing the field of management through research-based scholarship. Our professors regularly in the best management journals, including the Academy of Management Journal, Academy of Management Review, Journal of Applied Psychology, and Strategic Management Journal.
Degree Plans
BBA-Business Administration
We offer four areas of specialization for students pursuing the Bachelor of Business Administration degree (BBA) with a concentration in management.
General Management Specialization
The General Management specialization is the most generalized specialization offered by the department and is ideally suited for students seeking a broad overview of the management discipline. This specialization allows students the flexibility to seek a career in all areas of the business community. Whether it is the private, public, or non-profit sectors, the need for management skills are critical. The ability to successfully manage the various resources of an organization is becoming increasingly important to meet the challenges of a world economy. The General Management specialization provides the knowledge and skills to meet these challenges.
Entrepreneurship Specialization
The Entrepreneurship specialization helps students develop the conceptual and applied skills necessary to launch and manage an economically successful small business. Particular attention is devoted to developing skills related to opportunity recognition and the business planning. Students are also exposed to the primary functional areas of accounting, finance, management, and marketing as they relate to a small and growing venture. This specialization emphasizes leadership skills that can be effectively used to motivate people in a business environment, particularly as related to starting and nurturing a new business.
Human Resource Management Specialization
The Human Resource Management specialization helps prepare students for careers in the human resources field. Issues covered include employee relations; job analysis and design; employee planning, recruitment, and selection; employee training and development; performance management; compensation and reward systems; diversity; and quality of work life. The Human Resource Management specialization is ideal for students seeking to assume specialists, generalists and managerial positions in HR departments of private and public organization.
International Management Specialization
The International Management specialization helps students broaden their awareness and understanding of the challenges faced by businesses competing in a global economy. The course work in this specialization is cross-disciplinary and includes international management, finance, marketing, and economics, plus language and culture courses. Students can also benefit from semester long exchange programs to Europe and Asia. The International Management specialization can serve as an effective gateway to a variety of jobs in both domestic and multinational organizations.
Helpful Links
Master of Science in Human Resource Management
The purpose of the Master of Science in HRM is to prepare students for advanced careers in Human Resource Management. As the role of human resources increases in scope and importance across organizations, the need for adavanced education and professionalism is greater than ever. The Master of Science in Human Resource Management at UT Arlington is designed to meet the increasing demand for human resource professionals and HR executives in the field.
The Fast Track program will enable outstanding senior undergraduate Business students to satisfy degree requirements leading to a Master of Science in Economic Data Analytics degree while completing their undergraduate studies
The MSHRM provides both the breadth of an advanced business education and the depth of specialized human resource management training. The MSHRM is tailored to working practitioners and future professionals alike. The program also prepares HR professionals for certifications like SHRM-CP and PHR.
Some companies where our Students Intern
Arlington ISD
Aerostructures
Airbus Helicopters
Bell Helicopter
City of Arlington
Federal Reserve Bank
HKS Architecture
NEC Corporation of America
Texas Instruments
Some companies where our Alumni work
Accenture
American Airlines
DFW International Airport
Ford Motor Company
Lockheed Martin
Printpack
Samsung Telecommunications America
T-Mobile
UT Southwestern Medical Center
Types of jobs you can get with this degree
Compensation and Benefits Analyst
HR Analyst
HR Business Partner
HR Consultant
People Relations Manager
Recruiting Talent Acquisition
Program Duration
30 credit hours, if a student chooses to write a thesis
36 credit hours, Non-thesis student
If a student does not have a Bachelors in Business administration, may have to take additional coursework upto 18 credit hours
Helpful Links
Reasons To Study Management
Breadth of study in business management strategy and depth study in functional H/R disciplines
Innovative, responsive, research-based, and practice-oriented curriculum
Unparalleled relationships with the DFW community
Accommodations for working professionals
WANT TO LEARN MORE ABOUT Management?
Contact your academic advisor to schedule an appointment.
Meet Your Advisor
Featured Staff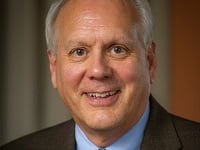 ---
DAVID A. MACK, PH.D.
Senior Advisor to the Dean
Clinical Professor of Management
College of Business
The University of Texas at Arlington
817-272-3085
Learn More
Take the next step
Claim your place among the brightest minds working today.