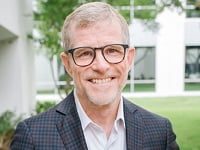 Brian Terrell founded BTerrell Group in 1991 and oversees management and strategy for this Dallas based provider of Sage Intacct financial management software, which is the only accounting application ever to be designated by the AICPA as their Preferred Provider of Financial Applications. In addition, BTerrell's experienced developers tailor the application's business functionality to exact customer requirements, when necessary.
Born in Plainview, Texas, Brian grew up on a farm where he learned to create value through hard work. From there, he received his Bachelor of Science degree from Texas A&M University before starting a career with Arthur Andersen & Co. In February 1991, Brian and his wife Nancy began practicing public accounting with Terrell & Terrell, CPAs. Within a year, the firm refocused all professional services exclusively on business software automation and eventually rebranded as BTerrell Group in 2008.
Brian rides 125 miles a week as an avid cyclist and ride leader for the Plano Bicycle Association. He and his wife Nancy live in Dallas and anticipate the arrival of their fourth and fifth grandchildren in 2022.
Learning Objective(s):
Understand the appeal and expansion of the subscription economy
Review special challenges in applying subscription models to professional services
Identify the impact of subscription pricing on culture, marketing, pricing, compensation, and valuation
Analyze the design, execution, and results of an actual professional service company's transition from fixed pricing to subscription pricing