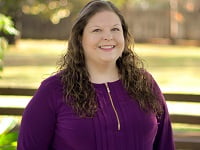 Stephanie Buduhan, CPA
Stephanie is an Audit Principal at PSK, LLP, a full-service CPA firm located in Arlington. She has 14 years of experience performing financial statement audits, with a focus on serving nonprofit organizations. She received a Bachelor of Science in Accounting, Summa Cum Laude, and a Master of Science in Accounting, both from UTA.
Stephanie enjoys serving on the Board of Directors for the TXCPA and the Board of Directors for Higher Education Servicing Corporation, a nonprofit organization which promotes college and career readiness for high school students. She is also an active member of the Greater Arlington Chamber of Commerce Women's Alliance.
Stephanie lives in Mansfield with her husband Patrick. They enjoy trying new restaurants, binge-watching tv shows on Netflix, and vacationing in tropical locations.
CPE Day Presentation - Accounting & Auditing Update, Nonprofit Focus