Frequently Asked Questions
Please select a category below to find an answer to your question. Can't find what you're looking for? Try utilizing our Financial Aid TV service which provides short video answers to common financial aid questions.
FAFSA PROCESS
Q: How do I apply for financial aid?
A: All students wishing to receive federal and state financial aid must complete and submit the Free Application for Federal Student Aid (FAFSA). Please include UTA's school code (003656) so we receive your information.
Beware of scams and companies who ask for money to complete the FAFSA. The application is always free and is found at StudentAid.gov.
Q: When is the priority date to complete the FAFSA?
A: The 2023-2024 priority date to qualify for maximum state and institutional grant funding at UTA is February 14, 2023. There is no deadline for submission to qualify for federal student loans or the Federal Pell Grant.
Q: Do I have to apply for financial aid every year?
A: Yes, you must apply each year to ensure that the most recent information is being used to determine your financial aid eligibility.
Q: Which FAFSA do I need to complete?
A: Please utilize the chart below to help determine which FAFSA you need to complete.
| Enrollment Period | Required FAFSA | Required Tax Information |
| --- | --- | --- |
| May 16, 2022 - May 10, 2023 | 2022-2023 FAFSA | 2020 Federal Income Tax Information |
| May 11, 2023 - May 10, 2024 | 2023-2024 FAFSA | 2021 Federal Income Tax Information |
Q: I live on my own and my parents do not support me financially, am I qualified to be an independent student for FAFSA purposes?
A: Dependency status is not based on your living situation or your financial status with your parents. Visit Federal Student Aid's Dependency Status page to determine if you're considered an independent or dependent student.
Q: Which parent's information should I provide if my parents are divorced or separated?
A: If you are a dependent student and your parents are divorced or separated:
Use the information of the parent whom you lived with the most during the past 12 months.
If you did not live with either parent or you lived with them equally, use the information of the parent who provided you with the most financial support during the past 12 months.
If the parent for whom you provide information is remarried, then you must also provide your stepparent's information.
It does not matter which parent claims you as a dependent on their taxes.
Q: My family has had a change in financial circumstances, what should I do?
A: If you've had a financial hardship or change in circumstances, please complete your FAFSA using the information for the year requested. Once you submit your FAFSA, you may be eligible to Request a Review of Special Circumstances.
VERIFICATION
Q: My FAFSA was selected for verification, what should I do?
A: If your FAFSA is selected for verification, the UTA Office of Financial Aid will send an email to your UTA email address detailing which documents are missing.
You can also view your To Do List on your MyMav Student Homepage for a list of outstanding items. You only need to complete the forms we request. All verification documents must be signed and submitted to our office before any financial aid offers can be made.
Q: Where do I find the verification forms?
A: You can find 2022-2023 and 2023-2024 forms on our forms webpage. You may also stop by the UTA Office of Financial Aid to obtain the forms in person.
RECEIVING MY AID
Q: Will I be notified once my financial aid package is ready?
A: Once we have processed your offer, we will send a financial aid notification to your UTA email account directing you to log on to your MyMav Student Homepage to accept or decline your offers.
Please review your financial aid notification carefully to review all of the terms and conditions of your offer and to ensure your aid is offered correctly to the semesters for which your plan to enroll.
Q: Why was I not offered a grant?
A: All grant funding is need-based and offered on a first-come, first-served basis. State and institutional grants are limited, and typically reserved for students who meet the February 14, 2023 priority date.
To qualify to receive the Federal Pell Grant, students must be working towards their first bachelor's degree and their eligibility is based on their Expected Family Contribution (EFC) number. For the 2022-2023 Aid Year a student must have an EFC between $0 and $6,206 to qualify.
Q: When does financial aid disburse to pay my charges?
A: Due to federal regulations, the earliest that financial aid funds can disburse for the semester is 10 days prior to a student's first class day. For more information, visit our Financial Aid Disbursement webpage.
Q: I transferred from another school. Does my aid transfer too?
A: Financial aid does not transfer from one school to another. However, if you have completed the FAFSA, you do not have to complete it again for the same academic year. You can simply go back to your FAFSA and add UTA's school code (003656) so we can receive your information.
If you received financial aid at another school during the same school year, please be sure to cancel any pending financial aid at your previous school. Our office may request documentation for proof of cancellation, so be sure to ask the school to provide you an updated financial aid notification once they cancel your aid.
Q: Can I receive aid if I am enrolled in a certification program?
A: The only certification programs eligible for financial aid here at UTA are teacher certification programs. Students enrolled in an Undergraduate or Graduate level teacher certification program would only be eligible to receive Undergraduate level loan amounts.
Q: Can I receive aid if I am enrolled in a UTA affiliated study abroad program?
A: Yes, students enrolled in a UTA affiliated study abroad program can receive financial aid for their study abroad courses. Once the student is approved for the study abroad program, the UTA Office of International Education will send the UTA Office of Financial Aid the student's approved study abroad budget. If necessary, the student's cost of attendance will be increased to match their approved study abroad budget. This may allow the student to apply for additional scholarships or alternative loans if they need additional assistance to cover their expenses. If receiving VA benefits, please contact the UTA Office of Veteran Benefits Certification to discuss your eligibility.
LOANS
Q: My federal student loan has not disbursed, is there a problem?
A: You must be enrolled in at least half-time credit hours to qualify for federal student loans (View enrollment-level requirements).
You must also complete Direct Loan Entrance Counseling and sign a Master Promissory Note for your loans if you are first-time borrower at UTA. Both items can be completed online at StudentAid.gov.
You can find common reasons why financial aid has not disbursed by visiting our Financial Aid Disbursement page.
Q: I want to apply for a private loan, what is the process?
A: You can find out more information about private loan options and how the process works by visiting our Alternative Loans page.
Q: How do I contact my loan servicer?
A: You may access information regarding who services your federal student loans as well as how to contact them by visiting StudentAid.gov and logging in with your FSA ID and password.
Q: Who should I contact about completing an In-School Deferment Request for my student loans?
A: Loan deferment requests are handled through the Office of Admissions, Records and Registration. Learn more about the loan deferment process.
CHANGES IN ENROLLMENT
Q: If I need to drop a course, does it affect my financial aid?
A: Changes to your financial aid offer due to dropping a course vary based on when you drop the course, how many courses you are dropping, and the types of financial aid you were offered.
If you need to drop a course at any point after your financial aid has disbursed, you should contact us so we may review your situation. We have more information available on drop policies for students in the Accelerated Online Program.
Q: How does withdrawing from UTA affect my financial aid?
A: Students who withdraw from all of their courses at UTA are subject to the Return of Title IV Funds policy as required by the U.S. Department of education if the student withdraws on or before completing 60% of the semester. Read the full Return of Title IV Funds policy.
Completion of one course in a term does not exclude students from being counted as a withdrawal. Visit our Accelerated Online Program web page for more information.
Q: I am not enrolling in full-time credit hours, am I still able to receive my full offer?
A: Financial aid offers may be adjusted for less than full-time enrollment. Most grants reduce based on the number of hours you enroll in, and other aid may need to be adjusted as well based on your estimated cost of attendance.
Financial Aid TV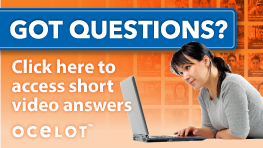 Got general questions? Access short video answers here on Financial Aid TV.
Video Answers