On Campus Positions
Explore the benefits of working on campus and learn more about how to find and apply for a student employment position.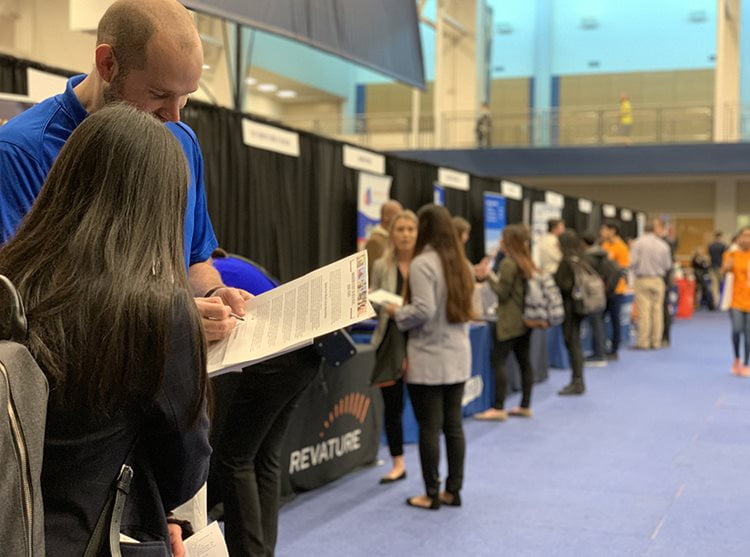 Why Should I Consider Working On Campus?
Participating in part-time employment during your college years can help you gain a variety of experiences and learn workforce skills that can be used in a full-time career after graduation. These opportunities are conveniently located on or near campus, help you to make connections with UTA faculty and staff, and are encouraged to be accommodating to your academic schedule and related needs. For students seeking to earn their work-study award, specified work-study positions through student employment are the way to do that.
Student Employment Positions
UTA students work in a wide variety of positions. Opportunities range from administrative office work, research opportunities with professors, event staffing, technology support, tutoring, marketing and communications, acting as ambassadors to university departments and programs, and much more. To search for available student employment positions, login to Handshake and search for on-campus positions.

Student Employment at UTA does not refer to full-time, part-time, or internship opportunities at external organizations or jobs through the Office of Talent, Culture, and Inclusion or Graduate Student Assistantships & Fellowships. Please contact those departments for more information about available opportunities.
Search for all student employment positions using Handshake.

Filter your job search by "on-campus" or search by "work-study" only. You can create applications directly in Handshake. Or you can search for "UTA Student Assistant" or "UTA Work-Study Student Assistant" and see the results you get in Handshake.

Download and review our guide on Finding an On-Campus Job on Handshake.

For assistance and questions about using the system please visit our Handshake Resources or contact us at studentemployment@uta.edu.

We encourage you to look for positions as early as you can, as it may be more difficult as the year progresses. Please note, many positions are only hired during specific times of year so be sure to check back frequently to see what positions are open. We recommend you stop by the Career Development Center or make an appointment with a Career Consultant through Handshake for help with resumes, cover letters, and interview preparation to make sure you're putting your best foot forward on each application. You'll increase your chances of success in finding a position by making sure you are prepared for the application process.
Once you are offered a student employment position, you will still need to complete the below steps before you may start working:
After you have applied and your new employer has been approved to start your hiring process, you will receive an email from universityoftexasarlington@screening.services with the subject line: Background Check Request. If you don't receive this link, then you need to contact the hiring department. Complete the request in the email to begin the background check. The Office of Talent, Culture, and Inclusion will notify the departmental contact with the background check results.
If you are cleared to move forward in the hiring process, your department should send you a formal offer letter. Send this back to your department with a signature.
If you are a work-study student, you will need to turn in your Work-study Eligibility Form to your hiring department.
All new student employees will be required to attend a paperwork session with the Office of Talent, Culture, and Inclusion. Click here for a link to sign up for a session. At these sessions all new student employees will be required to complete sections 1 and 2 of the federal Form I-9. This will require you to show, in person, required documentation. Per federal requirements, Human Resources must see original (not scanned, copied, or digital) documents when you complete the form in our office.
In general, your hiring department should guide you through these steps. Check out our New Position Information Student Checklist for steps to insure a smooth on-boarding with your supervisor. However, if you or your supervisor have questions, please feel free to reach out to our office.