Fall 2023 Move-In
2023-24 Move In Guide | 2023-24 Packing List (Updated July 6, 2023) | Volunteer Information
What to Know
The 2023 Fall Move-In Event will be on Thursday, August 17, 2023.
Students will be sent information to their UTA student email address to reserve a check-in time in August.
On August 17th, students will be able to check in between 9:00 a.m. - 8:00 p.m. Volunteers will be available through 4 p.m. to assist with move in.
Students will also be able to check in on Friday, Aug. 18 from 9 a.m. - 4 p.m. and over the weekend on Saturday and Sunday between 10 a.m. and 5 p.m. Students moving during the weekend will not need a move in slot. Please note that many welcome events take place beginning the evening of Thursday, Aug. 17.
Checking In
All residents must sign up for a check-in time, students will be sent information about check-in in August, through the Housing Portal.
Students will only be able to check in at their scheduled time.
When checking in, go to your hall check in area without your belongings.
If you do not have your MAV ID card, bring a government issued ID (e.g. driver's license, passport, etc.)
Only residents will be allowed in the check in area. We ask that guests wait to assist their resident with their belongings until they have checked in.
Once checked in, go to your suite/room to complete your room inventory sheet.
Moving In
We ask that residents bring their own dolly/wagon to transport their belongings from their vehicle if possible. There will be limited dollies and carts on site for students to check out.
Remember to drink plenty of water and take breaks.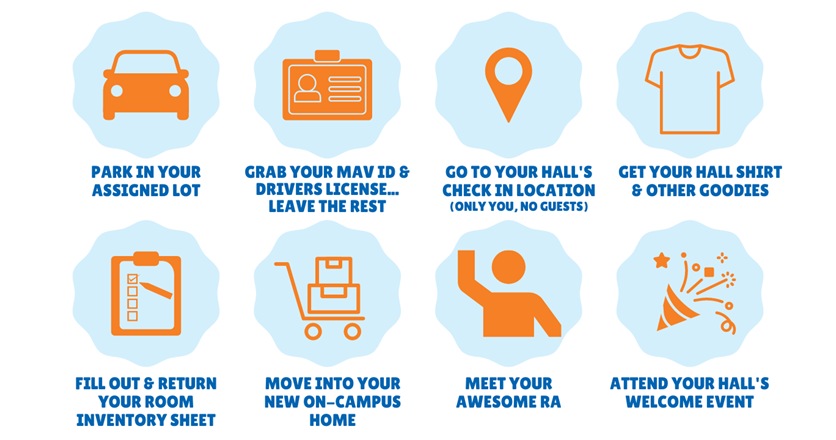 Please continue to check the university housing website and your student email account for updates about move-in, and do not hesitate to contact us for assistance at livingoncampus@uta.edu.
Where can I park?
We have created a parking map to reference for Move-In Event. Check out your parking options below!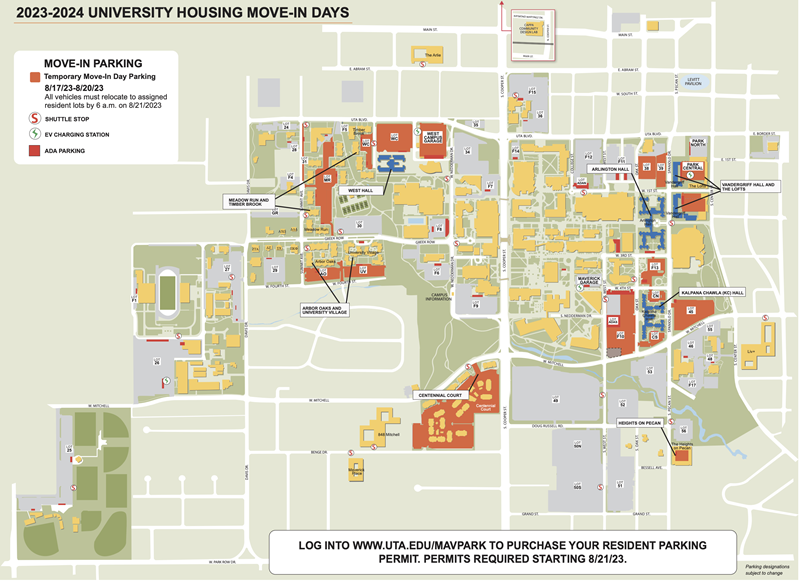 Vandergriff Hall residents will receive an email prior to the Move-In Event showing which parking garage would be most convenient to park in corresponding to their room number.

All residents will be able to order their parking permit online after August 1st. For more information on parking permits and detailed instructions on how to sign up, check out Parking Service's webpage.
WHEN WILL I FIND OUT MY ROOMMATE?
Roommate notifications are typically sent out the first full week of August to your UTA email address for students who have a confirmed reservation. If you do not get it by the end of the first full week of August, please email us at housing@uta.edu.
Because we sometimes get last minute cancellations as students finalize their college plans, these changes may affect who your roommate will be. Waiting until the first week of August allows us more confidence that your roommate provided will actually move into the residence hall. Keep in mind, we sometimes need to change roommates last minute and if we do this, we make every attempt to notify you prior to move-in day.
What Comes in My Room?
Each room and residence hall is slightly different. Housing tries to provide the items listed in each location on the individual residence hall pages. WiFi is included, for information about how to update, view our MyResNet Guide.
WHAT CAN I BRING?
Check out this handy Residence Hall Packing List with recommendations of what you should and shouldn't bring to your new home!
Mid Semester Move-In?
Whether you move onto campus mid-semester or during move-in week, following the outlined process below will help ensure a speedy and hassle free arrival.
Stop by the Housing Office to complete your contract and all deposits & prepayments
Take your receipt to the community front desk to obtain your room number and key
Move your belongings in
Stop by to meet your RA