Aerospace Engineering Master of Engineering Degree Program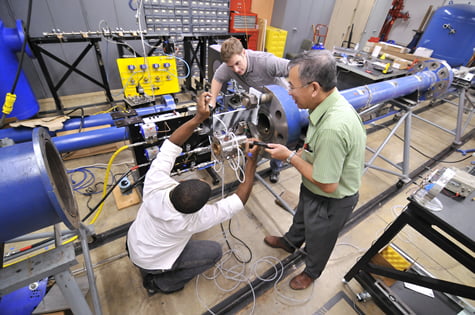 Objective and Description
The overall objective of the graduate program in Aerospace Engineering is to develop in a student the ability to define a technical problem, establish an appropriate mathematical or experimental model based on a firm understanding of the physical nature of the problem, analyze the problem by theoretical, numerical, or experimental techniques, and evaluate the results. Although this ability is developed in the context of aerospace problems, it is applicable to the engineering of any physical system.
The program is designed for a student with any of the following specific objectives:
A sound foundation in advanced mathematics, science, and engineering which will equip the student well for research and development work or for further advanced study toward a doctoral degree in engineering.
A program of advanced study which allows specialization in one of the following areas:

Fluid dynamics, aerodynamics and propulsion
Structural mechanics and structures
Flight mechanics and controls
Vehicle design

A balanced but non-specialized program of advanced study in aerodynamics, astronautics, flight dynamics, structural analysis, propulsion, and fluid mechanics, with emphasis on experimental techniques and modern mathematical analysis.
Requirements and Courses
The Master of Engineering (M.Engr.) Degree in Aerospace Engineering is an engineering practice-oriented program. A minimum of 30 credit hours is required as follows:
Three Core Courses (One course each from at least three core areas) 9 hours
Two Math/Engineering Analysis courses. 6 hours
Five elective courses relating to the student's areas of interest. At least 12-credit hours of coursework should be from Aerospace Engineering program. 15 hours
Total Hours 30
The balance of the required coursework hours may be chosen in consultation with the Supervising Professor to meet the student's needs and interests. Courses taken outside the Aerospace Engineering program require approval of the student's Supervising Professor as well as the Graduate Advisor. The elective courses cannot include special project courses (for example, AE 5391 / 5291 / 5191 Advanced Studies in Aerospace Engineering) or research courses (for example, AE 5397 / 5297 / 5197 Research in Aerospace Engineering).
Master's Degree in Engineering
The responsibility rests with each student for knowing the rules, regulations, and filing deadlines of the Graduate School and their respective department. This page provides general information only. Requirements of the Graduate School and the academic department must be met.
Apply Now

Visit Campus
Special Programs