Civil Engineering Master of Engineering Degree Program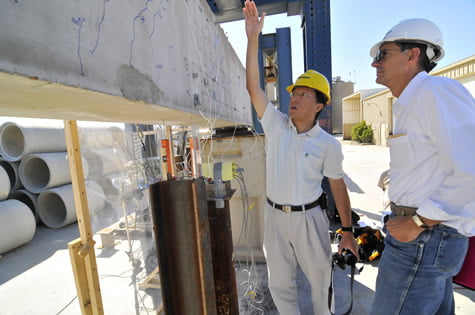 Objective and Description
The objective of the graduate program in civil engineering is to prepare students for continued professional and scholarly development consistent with their technical interests. Students, with the assistance of a faculty advisor in their area of interest, plan their programs of study in one of the technical areas in civil engineering.
Typical program and research areas are:
Construction Engineering and Management;
Environmental (water and air quality control, and solid and hazardous materials control);
Geotechnical (soil mechanics and foundations);
Infrastructure System Engineering and Management;
Structures and Applied Mechanics;
Transportation (traffic planning, highways, airports and transit);
Water Resources (hydrology and hydraulics)
Admission & Degree Requirements Inquire Now Civil Engineering Department
Requirements for Licensure or Certification
All discipline specific programs in the College of Engineering meet educational requirements for professional licensure or certification in all U.S. states, territories, and the District of Columbia.
Pursuing a Master's Degree in the College of Engineering
The responsibility rests with each student for knowing the rules, regulations, and filing deadlines of the Graduate School and their respective department. This page provides general information only. Requirements of the Graduate School and the academic department must be met.
Apply Now

Visit Campus