Mechanical Engineering Master of Science Degree Program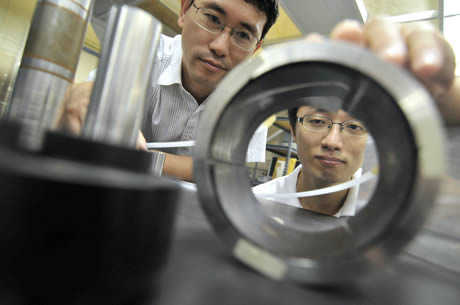 Objective and Description
The graduate program provides opportunities for professional development in such forms as: instructional courses to enhance technical competence in areas of mechanical engineering practice; training through a variety of experiences in design, development, research, experimentation, and/or analysis in joint efforts with faculty and peers.
The specialized courses of study required for entry into career fields allied to the mechanical engineering discipline; guided individual study under faculty supervision; and supportive coursework for programs leading to careers that require interdisciplinary competence.
A student with aid from a faculty advisor plans a program that will be consistent with his or her technical interests and the available facilities and course offerings. Typically, programs are classified as:
Thermal Science
Fluid Science
Mechanical Design and Manufacturing
Solid Mechanics and Structures
Controls and Systems
Manufacturing Engineering Option
Students desiring a program in manufacturing engineering may achieve this goal while meeting the requirements for a graduate degree in mechanical engineering. This is accomplished by selecting a specific program of courses. Upon completion, the student receives a Manufacturing Engineer's Certificate along with the Master of Science or Master of Engineering degrees in Mechanical Engineering. Specifics are available in the Mechanical Engineering office.
Requirements
The Master of Science degree is a research-oriented program in which completion of a thesis is mandatory. A minimum of 30 credit hours is required as follows: three core courses (one course each in three of the four areas) and the two analysis courses listed above; three graduate courses (nine credit hours) related to a specialty in mechanical engineering (registration in elective courses outside the Mechanical Engineering Department requires prior approval of the mechanical engineering graduate advisor and the student's committee chair; otherwise they will not count towards graduation requirements); and six credit hours of thesis. In addition, all GTA/GRA Master of Science students are required to enroll in ME 5101 Seminar course. The student must enroll in ME 5398 or ME 6397 every semester in which the student is actively involved in thesis preparation or research, except that the student must enroll in ME 5698 in the semester of graduation.
Master's Degree in Engineering
The responsibility rests with each student for knowing the rules, regulations, and filing deadlines of the Graduate School and their respective department. This page provides general information only. Requirements of the Graduate School and the academic department must be met.
Apply Now

Visit Campus
Special Programs