Biomedical Engineering Doctoral Degree Program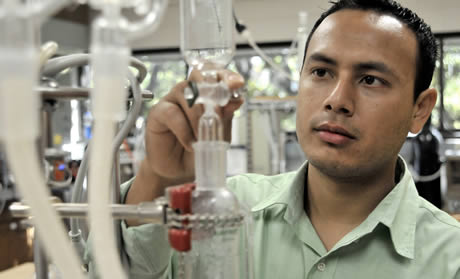 Objective and Description
The Biomedical Engineering Program is jointly offered with UT Southwestern. Research and teaching efforts of various departments in the biological, engineering, mathematical, physical, and medical sciences of both institutions are coordinated through the Committee on Graduate Studies in Bioengineering. The goal of the program is to prepare students for bioengineering careers requiring skills in research, development, and teaching in a variety of settings in industry, in hospitals, in research facilities of educational and medical institutions and in government regulatory agencies. Internships...
The Doctoral Program
The doctoral program is based upon graduate level work in bioengineering and extensive graduate training in the life sciences and related physical sciences. The program is aimed at the development of professional biomedical engineers capable of independent research.
Concentration Tracks
The program includes coursework and research in medical imaging, biosensors, physiological control systems, biomedical signal processing, biomedical instrumentation, rehabilitation, orthopedics, biomechanics, biomaterials and tissue engineering, cell and molecular engineering and neurosciences. Specifically, during the first year of their studies, students in the doctoral program must select one of the concentration tracks:
Bioinstrumentation,
Biomaterials/Tissue Engineering,
Biomechanics,
Medical Imaging
Nanomedicine,
Nanotechnology, or
Protein Engineering.
Requirement and Courses
The Ph.D. degree program consists of a minimum of 47 credit hours beyond the bachelor's degree level and includes the courses as specified below. Course requirements differ for the protein engineering and molecular and computational bioengineering tracks. See track advisor for details.
Elective Bioengineering
Five courses from: Biological Materials, Mechanics, and Processes (BE 5335); Finite Element Applications in Bioengineering (BE 5340); Biosensors and Applications (BE 5345); Modeling and Control of Biological Systems (BE 5350); Digital Control of Biomedical Systems (BE 5351); Digital Processing of Biological Signals (BE 5352); Design and Application of Artificial Organs (BE 5360); Thermoregulation and Bioheat Transfer (BE 5362); Biomaterials and Blood Compatibility (BE 5361); Introduction to Orthopedic Mechanics (BE 5331D); Orthopedic Biomaterials (BE 5332D); Tissue Engineering (BE 5364); Tissue Engineering Laboratory (BE 5365); Process Control in Biotechnology (BE 5366); Biomaterial-Living System Interactions (BE 5370) or other courses with the approval of the graduate advisor.
Required Bioengineering
One laboratory course in bioengineering approved by the graduate advisor, such as Laboratory Principles (BE 5382) or Tissue Engineering Lab (BE 5365); BE Seminar (BE 5101); Ph.D. Seminar in BE (BE 6103) for at least two semesters.
Engineering
One course from other engineering departments or a life science course with the approval of the graduate advisor.
Life Sciences
Human Physiology (BE 5309); Cell Physiology, Neuroscience, or Tumor Physiology; and Biochemistry, Molecular Biology, or Immunology are required. Other life science courses may also be taken with the approval of the graduate advisor.
Mathematics, Statistics, Computer and Physical Sciences
A course in biostatistics is required.
Ph.D. Examinations and Dissertation
All doctoral students must satisfactorily complete the following exams: Doctoral Diagnostic Examination (BE 6194), Doctoral Comprehensive Examination (BE 6195), and Dissertation (BE 6999) at the semester in which the student expects to submit and defend the dissertation.
Although qualified applicants may be accepted into the Ph.D. program without earning the Master of Science in Biomedical Engineering, all students must satisfactorily pass the Doctoral Diagnostic Examination (BE 6194). This examination will cover all relevant coursework taken by the student. The examination may be written, oral, or both and consists of a timed, written analysis of a major problem in the student's general area of research interest, followed by an oral examination covering the same material. Elements of engineering, physical and biological science, mathematics, computer science and statistics may be included in this examination.
Note
For additional information, applicants and students should contact the department's graduate advisor for a copy of the Information Brochure for related and amplified information about the graduate program. In degree plan descriptions, course numbers followed by a D are offered at UT Southwestern.
Ph.D. IN ENGINEERING
All applications for admission will also be considered for assistantships, fellowships, and scholarships. Some of the offers for financial aid are made well before the final deadline for application. Applicants are strongly urged to complete their applications early to take advantage of all the opportunities for financial aid available in the College of Engineering and the University.