Mechanical Engineering Doctoral Degree Program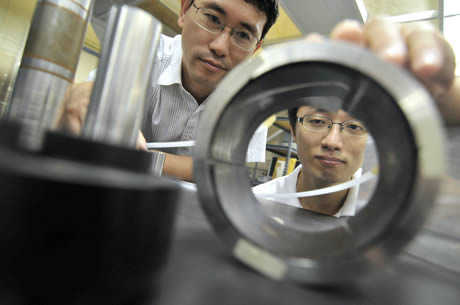 Objective and Description
The graduate program provides opportunities for professional development in such forms as: courses to enhance technical competence in areas of mechanical engineering practice; training through a variety of experiences in design, development, research, experimentation, and/or analysis in joint efforts with faculty and peers; specialized courses of study required for entry into career fields allied to the mechanical engineering discipline; guided individual study under faculty supervision; and supportive coursework for programs leading to careers requiring interdisciplinary competence.
A student with aid from a faculty advisor plans a program that will be consistent with his or her technical interests and the available facilities and course offerings. Typically, programs are classified as:
Thermal Science
Fluid Science
Mechanical Design and Manufacturing
Solid Mechanics and Structures
Controls and Systems
B.S. to Ph.D.
The B.S. to Ph.D. program is an accelerated program in which a student proceeds directly to the Ph.D. dissertation research and bypasses the M.S. thesis.
Admission & Degree Requirements Inquire Now Mechanical and Aerospace Engineering Department
Requirements for Licensure or Certification
All discipline specific programs in the College of Engineering meet educational requirements for professional licensure or certification in all U.S. states, territories, and the District of Columbia.
Ph.D. IN ENGINEERING
All applications for admission will also be considered for assistantships, fellowships, and scholarships. Some of the offers for financial aid are made well before the final deadline for application. Applicants are strongly urged to complete their applications early to take advantage of all the opportunities for financial aid available in the College of Engineering and the University.