Advanced Pavement Research Center
Mission
To advance U.S. technology and expertise in the pavement engineering through education, research, and technology transfer.
Goals
Research: to conduct an ongoing and prominent program of cutting-edge basic and applied research, the products of which are judged by peers or other experts in the field, to advance the body of knowledge in pavement engineering.
Education: to develop a multidisciplinary program of course works and experiential learning related the most advanced method of designing, constructing and maintaining pavement materials and structures.
Team: to attract an increased number of students, faculty and staff who are substantively involved in the undergraduate, graduate and professional programs related to pavement engineering.
Technology Transfer: to make available the research results to potential users in a form that can be directly implemented, utilized, or otherwise applied.
Facilities (Equipment details)
Fresh Concrete Testing: Self-Consolidating Concrete Test Set, Maturity Meter.
Materials Testing and Processing: Vicat and Gilmore apparatus, Blaine Fineness Apparatus, Los Angeles Abrasion machine, Micro-Deval; Sand Equivalent testing set.
Asphalt Binder Characterization: Rotational Viscometer, Dynamic Shear Rheometer.
Asphalt Mix Design and Characterization: Superpave and Texas Gyratory Compactors.
Universal Testing Machine (model IPC25): capable of performing many AASHTO and ASTM tests on asphalt mixes, stabilized soil and rock, crushed rock and gravel, unbound and bound base, subbase and subgrade materials.
Pavement Testing Machine (PTM): capable of loading two full-scale pavement structures with a standard truck axle with the axle load between 10,000 and 40,000 lbs, at a speed of 7.5mph, under controlled pavement surface temperature.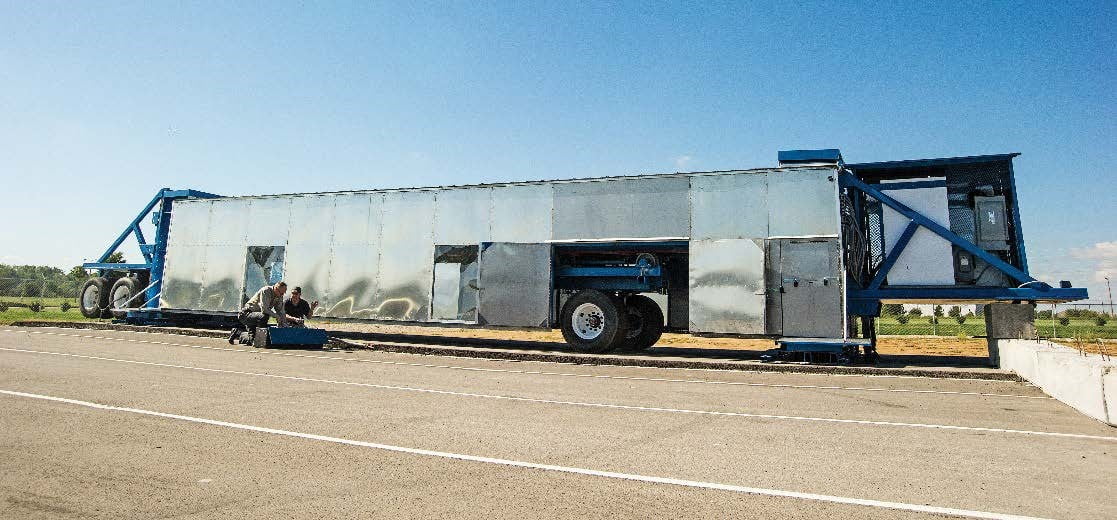 Pavement Testing Machine
Accelerated Pavement Testing Facility
Accelerated Pavement Testing (APT) is generally defined as a controlled application of a realistic wheel loading to a pavement system simulating long-term, in-service loading conditions. This can be accomplished through the use of a test track with actual traffic and/or a specialized load frame that applies an adjustable weighted load in a linear or circular setup. This allows the monitoring of a pavement systems performance and response to accumulation of damage within a short time frame. Such information is critical to support informed highway planning, policy and decision making. Experience has shown that APT testing can produce quick, cost-effective, reliable, and beneficial/practical results while also improving the understanding of pavement technology in predicting pavement system performance.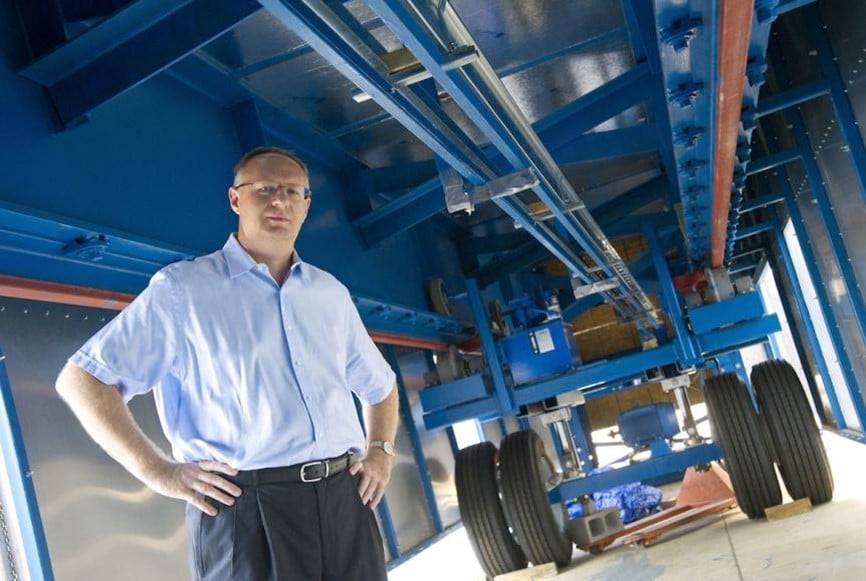 Brief Description The APT program at the University of Texas at Arlington was established in 2013 in Fort Worth Campus of the University. The facility site located at 1829 Robotics Place, Fort Worth, TX 76118.The APT loading device used is the Pavement Testing Machine (PTM) machine which is a transportable linear device capable of applying single axle loads up to a nominal 162KN (36,000lbs) in uni-directional and bi-directional modes, at speeds up to 8km/h (5mph). Dual tires inflated to 100 psi are normally used during testing, but super-single tires can be fitted as well. The test pavement length on which the speed of the axle is constant is 6m (20ft) with optional transverse wander over 0.9m (36 in.). Up to 600 axle loads can be applied in one hour in bi-directional mode. The PTM can load two flexible pavement sections simultaneously, with one half-axle loading each section, while rigid pavements are loaded with the entire axle.
Up to thirty experimental pavement sections, 22 m (75 ft) long and 2.4m (8ft wide) can be build and tested at the facility. Sensors are typically installed in the tested pavement structures to measure the pavement response (strains, stresses and deflections) during the full-scale accelerated loading. A fully enclosed environmental control chamber fitted with cooling and heating units is used for temperature control. If needed, the PTM can be easily transported to remote test sites to conduct testing of existing pavement sections.
Fee Structure Effective September 1, 2013
Contacts:
Center Director - Dr. Stefan Romanoschi (817-272-0340) - romanoschi@uta.edu)
| Services | Unit | UT System University | Other Academic University | Commercial |
| --- | --- | --- | --- | --- |
| Application of full-scale axle loading with the Pavement Testing Machine (PTM) | per hour | $60 | $60 | $60 |
The rates above do not include Indirect Costs, which are estimated based on the indirect cost rate agreed upon on individual research projects.