College of Engineering Student Stories
Your story could be next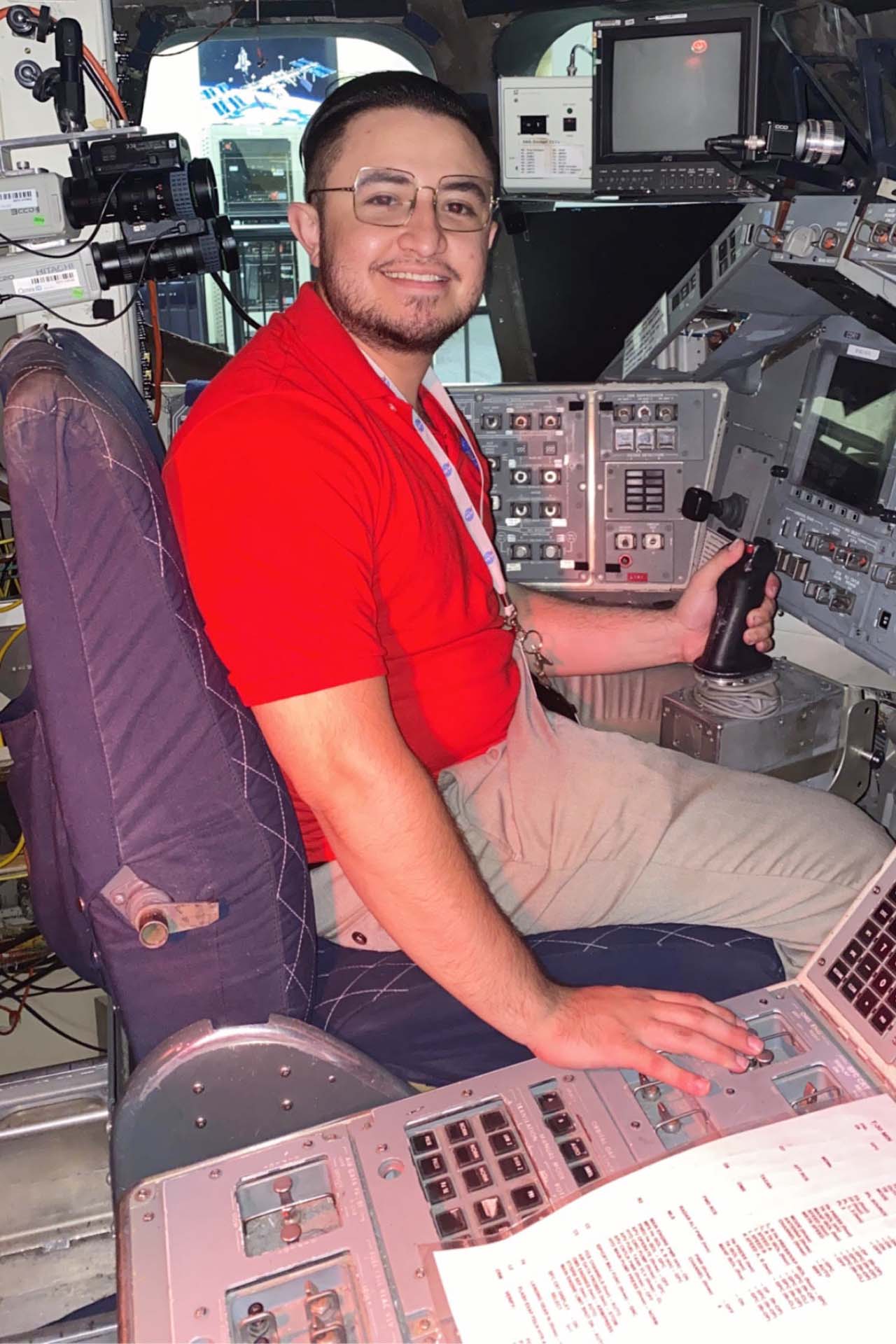 Meet Jorge
I was born in El Paso, Texas, and lived in Mexico for a few years before my parents moved to Arlington. Being the oldest child and first in my family to go through the United States school system has been a learning curve for my whole family. As a first-generation student, I learned to adapt to the culture and environment of a new country, since my parents didn't grow up in the United States.
UTA can help you achieve whatever you want to achieve. Take advantage of your opportunities early. Join a technical organization where you can learn hands-on skills and fumble around with hardware to gain technical experience. Find an organization where you can develop professionally, gain leadership skills, do community outreach, meet mentors to guide you when you are new and go to conferences where you can showcase your technical skills. Look for certifications offered by the University for free or at a discounted rate. These things will make you a better engineer and you'll be in an excellent position to find a great job after graduation.
Initially, I decided to major in biomedical engineering because I tore my ACL playing soccer in high school. During my 10-month rehabilitation after surgery, I learned how the combination of doctors and engineers can produce amazing results such as prosthetics and life-saving medical devices and the direct impact they can have on someone's life.
During my time at UTA, I have been heavily involved in the Society of Hispanic Professional Engineers (SHPE). I have served as chapter President, Vice President and Community Outreach Director, and now I am a Vice Regional Student Representative, where I communicate with more than 40 SHPE chapters and serve more than 1,700 members across seven different states. I earned the Outstanding Lobo LeaderSHPE Undergraduate Award, an award given annually to one individual in SHPE Region 5, in 2022.
Joining SHPE helped me gain the professional development skills I needed to build a résumé and portfolio. I've met mentors all over the country who I can seek guidance from, and I also have mentees reach out to me for advice. After meeting many mentors, I decided to add a mechanical engineering major. SHPE has also given me a platform to share my experience and give back to my community by organizing outreach efforts.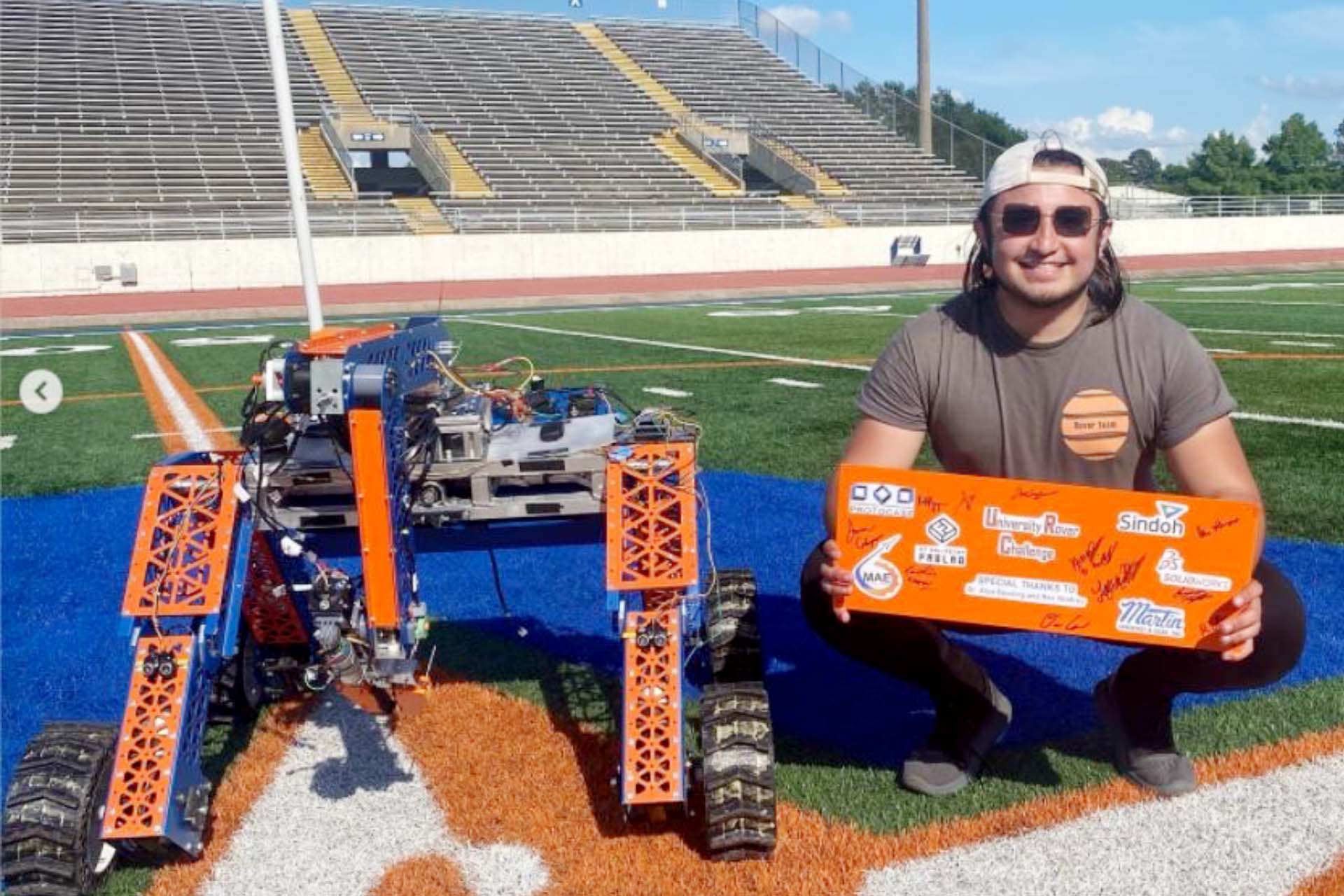 I have also been very involved with the UTA ROVER Team. I served as the Mechanical Arm Co-lead and was the Chief Mechanical Officer when we were one of 15 schools out of 88 worldwide to qualify for the University ROVER Challenge finals in 2021. The ROVER Team helped me develop the technical skills I needed to become a well-rounded, hands-on engineer, such as 3D printing, soldering, riveting, designing and even woodworking. I also did a lot of work in Computer Aided Design (CAD) and took the Certified SOLIDWORKS Associate Exam in mechanical design and obtained my certification.
I've had some great internships as well. One of them, the College Work Experience Program (CWEP), helps UTA students directly connect to Lockheed Martin. During summer and fall 2021, I worked as a Reliability and Safety System Engineering Intern at Lockheed Martin Missiles and Fire Control, supporting the High Mobility Artillery Rocket System Launcher.
In Spring 2022, I worked as a Fractional Thermal Runaway Calorimetry Engineering Intern at the NASA Johnson Space Center in Houston, supporting the Power Systems Branch in the design and testing of Lithium-ion batteries, and during Summer 2022, I continued at Johnson Space Center in the Energy Systems Test Area, supporting the Propulsion Systems Branch as a Liquid Oxygen/Liquid Methane Thruster Ignition Testing Engineering Intern.
I plan to complete my mechanical and biomedical engineering degrees while supporting projects at NASA. My goal is to attain a Master's or Ph.D. degree in mechanical engineering, then to become a U.S. Air Force test pilot, a NASA research pilot, work on NASA Artemis Generation projects full-time as a NASA engineer and finally, apply to be a NASA Astronaut, following in the footsteps of UTA alumni Robert Lee Stewart and Kalpana Chawla.