Industrial Engineering Master of Science Degree Program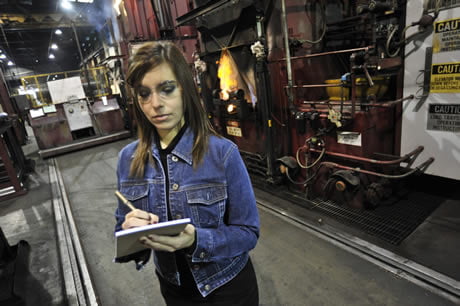 Objective and Description
An industrial engineering background focuses on improving an organization's productivity and quality, so it is broadly applicable across numerous domains, such as optimizing automotive assembly plant processes, analyzing data for patient care decisions in hospitals, promoting sustainable food supplies, developing renewable energy systems, improving water pipe network resiliency, and enhancing police officer wellness. By focusing on eliminating waste of time, money, materials, and energy, industrial engineers can make a difference in any industry.
Degree Requirements
The Master of Science in Industrial Engineering program is open to all engineering graduates. Applicants with other science, technology, and mathematics degrees may also apply although some additional prerequisite courses may be required.
The Master of Science in Industrial Engineering is a 30-credit program that may be completed as a thesis option, a non-thesis capstone paper option, or as a coursework only option. Courses are offered face-to-face and on-line to support both full-time students and working professionals.
Each student will take a four-course core that covers probability and statistics, regression analysis, operations research, and engineering economics. Students then select a track to specialize their program. Tracks in the program include:
Industrial Applications – Provides training in broadly applicable tools and techniques relevant to multiple industries, including courses in quality, simulation, and advanced manufacturing.
Decision Analytics – Provides a focus on quantitative decision-making, including courses covering methods for Predictive Analytics, Prescriptive Analytics, and Design of Experiments.
Logistics Management – A combination of engineering and business focused topics that include courses in production and inventory control, logistics transportation systems, and global supply chain management.
Occupational Safety and Health – Focuses on worker-machine-environment systems to improve productivity and safety, including courses in human engineering, industrial biomechanics and safety engineering.
Requirements for this program, as well as other programs at UTA, may be found in our graduate catalog.
Master's Degree in Engineering
The responsibility rests with each student for knowing the rules, regulations, and filing deadlines of the Graduate School and their respective department. This page provides general information only. Requirements of the Graduate School and the academic department must be met.
Apply Now

Visit Campus
Special Programs