Master of Science in Industrial Engineering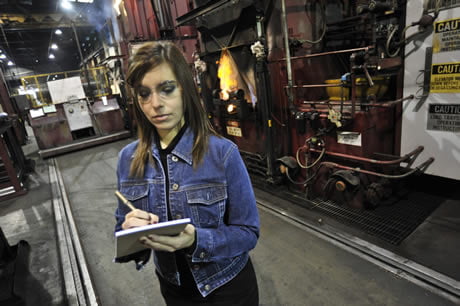 The Master of Science in Industrial Engineering is a STEM program designed to provide students with fundamental knowledge in multiple areas of industrial engineering. A student may pursue a broad program of study or they may specialize in areas such as general industrial engineering, manufacturing systems, ergonomics/human factors, or advanced analytics/operations research.
Students may select from different options to complete their program, including course work (10 classes), capstone (9 courses and an application-oriented research paper), or thesis (8 courses and a thesis). Students work with an advisor to determine the best option and courses for their needs.
Successful applicants to the Industrial Engineering Master of Science program typically have a bachelor's or Master's degree in engineering or science with a minimum GPA of 3.0 in the last 60 credits of their bachelor's program. Strong math skills are helpful. Successful applicants also have a minimum TOEFL of 79, a minimum GRE of 301 (quantitative of 155 and verbal of 146). Letters of recommendation are not required for the program.
Academic Catalog Degree Plan Inquire Now IMSE Department
Courses Available on Campus and Through Distance Learning
In addition to our traditional on-campus program, most of our classes are also available online. This option is available for all students including full-time, part-time, and working professions.
Requirements for Licensure or Certification
All discipline specific programs in the College of Engineering meet educational requirements for professional licensure or certification in all U.S. states, territories, and the District of Columbia.
Pursuing a Master's Degree in the College of Engineering
The responsibility rests with each student for knowing the rules, regulations, and filing deadlines of the Graduate School and their respective department. This page provides general information only. Requirements of the Graduate School and the academic department must be met.
Apply Now

Visit Campus