Materials Science and Engineering Master of Engineering Degree Program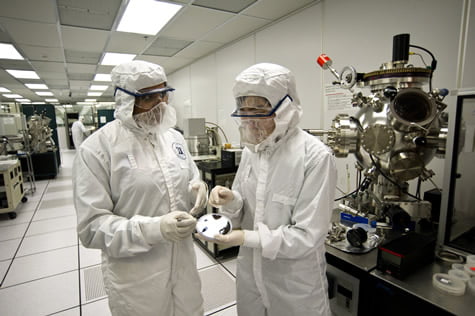 Objective and Description
The graduate program in Materials Science and Engineering is designed to provide students with a fundamental understanding of phenomena occurring in materials and their associated chemical, electrical, mechanical, and physical properties. The master's program prepares students for professional careers in materials science and engineering or for additional studies at the doctoral level.
Degree Requirements
Candidates for a master's degree may elect programs emphasizing metals, polymers, ceramics, composite materials, or electronic materials, as well as a number of other areas.
Although the program is administered through the College of Engineering, it is broadly interdisciplinary, actively involving faculty in both the College of Science and the College of Engineering. In addition to materials science and engineering courses, applicable courses are in the disciplines of aerospace engineering, biomedical engineering, chemistry, civil engineering, computer science and engineering, electrical engineering, mechanical engineering, and physics.
Requirements and Courses
The Master of Engineering degree is an engineering practice-oriented program requiring a minimum of 30 credit hours. A minimum of 24 credit hours of coursework must be in MSE courses.
MSE 5300 Introduction to Materials Science and Engineering: This course must be taken by any students whose academic backgrounds are different from Materials Science and Engineering. An exemption may be granted by the graduate advisor if it is determined that the student has a solid foundation for Materials Science and Engineering. The credit for MSE 5300 will not be counted towards the total credits required for graduation. However, the grade of MSE 5300 will be counted in calculating the GPA.
The Master of Engineering degree program requires successful completion of the following four core courses:
MSE 5304. Analysis of Materials
MSE 5305. Solid State Physics and Thermodynamics of Materials
MSE 5312. Mechanical Behavior of Materials
MSE 5321. Phase Transformations of Materials
Master's Degree in Engineering
The responsibility rests with each student for knowing the rules, regulations, and filing deadlines of the Graduate School and their respective department. This page provides general information only. Requirements of the Graduate School and the academic department must be met.
Apply Now

Visit Campus
Special Programs