Civil Engineering Doctoral Degree Program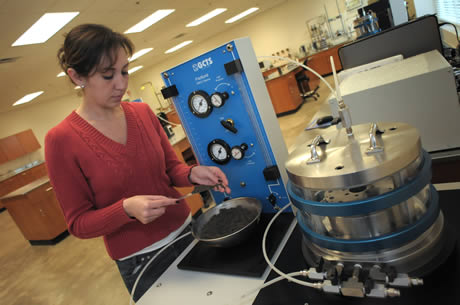 Objective and Description
The objective of the graduate program in civil engineering is to prepare students for continued professional and scholarly development consistent with their technical interests. Students, with the assistance of a faculty advisor in their area of interest, plan their programs of study in one of the technical areas in civil engineering.
Research Areas
Typical program and research areas are:
Construction Engineering and Management;
Environmental (water and air quality control, and solid and hazardous materials control);
Geotechnical (soil mechanics and foundations);
Infrastructure Systems Engineering and Management;
Structures and Applied Mechanics;
Transportation (traffic planning, highways, airports and transit);
Water Resources (hydrology and hydraulics)
Admission & Degree Requirements Inquire Now Civil Engineering Department
Frequently Asked Questions (FAQ)
What are the admission requirements?

• Admission requirements (Ph.D. degree)
NOTE: Ph.D. students are admitted to work with a particular faculty member. Contact faculty members in your area of interest to find one willing to work with you.

What if I don't meet the requirements for unconditional admission?

If applicants do not meet a majority of standards for unconditional admission, they may be considered for probationary admission after careful examination of their application materials. Probationary admission may require that the applicant receive a B or better in at least their first 9 hours of graduate coursework applicable to their degree being sought at UTA, take additional English courses, and/or take deficiency courses as required.

What funding is available?

A limited number of $1000 scholarships are available for continuing students. These provide in-state tuition ($4000/semester instead of $8000). Students may contact faculty members in their area of interest about research assistantships. These are 20 hours/week, with many available for Ph.D. students and only a few for Master's students. Teaching assistantships are reserved for Ph.D. students on a competitive basis. There may be opportunities for employment at local engineering firms, on-campus jobs, TPEG grants, or other financial aid.

How do I apply?

What is the application deadline?

Graduate Application Deadlines.
Note: These are soft deadlines -- we continue to process applications even if they are received after the deadline. Students from some countries who apply after the deadline may have difficulty receiving a visa in time to start the following semester.

What application materials are required?

If your undergraduate degree is from UTA:
• If you were accepted to the Fast-Track program, no additional application is required.
• If your GPA is above 3.5, contact Dr. Abolmaali -- you may qualify for facilitated admission.

Otherwise, you need to submit:
• Online application
• Fee
• Only if undergraduate GPA was < 3.0: GRE score
• Ph.D. applicants only: Statement of purpose and 3 reference letters

If your undergraduate degree is NOT from UTA:
• Online application
• Fee
• Transcripts from all previous schools attended
• GRE scores
• TOEFL/IELTS (applicants from non-English speaking universities only)
• Ph.D. applicants only: Statement of purpose and 3 reference letters

Where do I send my transcript?

Send your transcript to Graduate Admissions

Can I provide a copy of my transcript, or must it be original?

In some cases, an unofficial transcript may be used for admission decisions, but an original transcript is required.

How do I take the GRE/TOEFL?

Where do I send my GRE scores?

UTA's code for the GRE/TOEFL is 6013

Can I be admitted conditionally and take the GRE after I arrive in the US?

No -- we must have a GRE score to admit you.

Can I take the TOEFL or the IELTS?

Yes, either one is fine.

Must I complete all deficiency courses before I apply?

No, you can take them along with your Master's courses.

How long does it take to process my application?

Applications are typically processed about a week after they are complete (including GRE scores, transcripts, etc.).

Can I have a deficiency course waived?

If you have had the course content previously, send a syllabus detailing the course content to gautam.eapi@uta.edu.

Can you waive the GESP?

The GESP can only be waived if your undergraduate degree was from a university where courses were conducted in English.

How do I defer my admission until the next semester?

Submit the update/reactivation form.

How do I change to an area of civil engineering different from the one I applied for (e.g. I want to change from environmental to water resources)?

E-mail gautam.eapi@uta.edu to have your deficiency courses rechecked.

What do I include in my statement of purpose? (Ph.D. Applicants only)

Your statement of purpose should outline why you want to pursue a Ph.D. degree.

Can the statement of purpose be longer than 200 words? (Ph.D. Applicants only)

Yes

Where do I send my statement of purpose? (Ph.D. Applicants only)

Please email it to gautam.eapi@uta.edu.

Where do I send my reference letters? (Ph.D. Applicants only)

Please email reference letters to gautam.eapi@uta.edu

Can reference letters be submitted electronically? (Ph.D. Applicants only)

Yes, but there's not a special form. Just e-mail them.

Can reference letters be sent via regular mail? (Ph.D. Applicants only)

Yes, please have them sent directly to the CE Department



UTA Dept. of Civil Engineering
Box 19308
Arlington, TX 76019
Requirements for Licensure or Certification
All discipline specific programs in the College of Engineering meet educational requirements for professional licensure or certification in all U.S. states, territories, and the District of Columbia.
Ph.D. IN ENGINEERING
All applications for admission will also be considered for assistantships, fellowships, and scholarships. Some of the offers for financial aid are made well before the final deadline for application. Applicants are strongly urged to complete their applications early to take advantage of all the opportunities for financial aid available in the College of Engineering and the University.