The University of Texas at Arlington
Commission on Colleges of the Southern Association of Colleges and Schools
---
College of Education
---
National Council for the Accreditation of Teacher Education (NCATE/CAEP) is recognized by the U.S. Department of Education and numerous national organizations as the accrediting body for universities that prepare teachers and other professional personnel for work in P-12 schools. NCATE ensures that accredited institutions hold high standards and produce competent, caring, and highly qualified educators and administrators who have proven they can support the learning of all students.
UTA College of Education is accredited for both initial and advanced programs through 2023.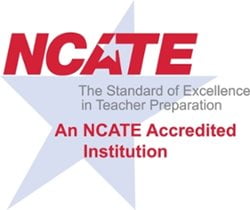 ---
Texas Education Agency (TEA) provides leadership, guidance, and resources to help schools meet the educational needs of all students. TEA also provides support for and oversight of Texas Educator Preparation Programs.
Texas Educator Preparation Program Accreditation Statuses
2013-14 accredited
2014-15 accredited
2015-16 accredited
2016-17 accredited
2017-18 accredited warned
2018-19 accredited
2019-20 not rated: declared state of disaster
TEA staff are recommending that the UTA program be assigned accredited status under the Accountability System for Educator Preparation at the February 21, 2020 State Board for Educator Certification meeting.
Military Service, Training, or Education
In accordance with 19 TAC 228.35 (a)(5), UTA's College of Education evaluates and may accept military service, training, or education toward the fulfillment of program prerequisite admission requirements. Military service, training, or education must be directly related to the certificate being sought and may not take the place of certification examinations. Service, training, or education may not count as part of an internship, clinical teaching, or practicum requirements and must be provided by an approved Educator Preparation Program or accredited institution of higher education within the past five years. The Program Director will determine whether or not military service, training, or education is relevant and could be used as a substitution.
Have questions for us?
Get information about Education programs, admissions requirements, and more.
Request Info