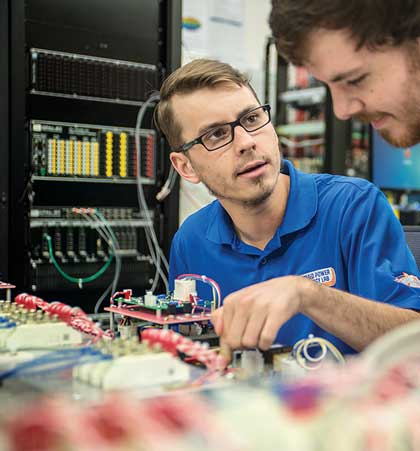 Quality, Convenient Programs, Engineered for Your Needs
Are you ready for a master's program designed to meet your schedule, enhance your career prospects, and deliver the knowledge and skills needed to create viable solutions to today's most pressing problems?
To accommodate your busy schedule, many of our graduate programs offer late afternoon and evening classes. In addition, more than 130 courses are offered online most semesters.
You'll meet people from all over the world here: UTA celebrates the diversity of its student body, and the University is a Hispanic-Serving Institution. Engineering students come from all backgrounds, nearly every U.S. state, and 70 nations around the world. This diversity engenders a robust learning environment that makes students consider the global impact of their education.
You can afford it: UTA offers an excellent education with low tuition rates, financial aid, and scholarships that keep your costs low and your debt manageable.
We make a difference: Thousands of UTA engineering alumni are part of the workforce in the Dallas-Fort Worth Metroplex and across Texas. Our graduates work at dozens of local companies, including several among the Fortune 500, and at organizations such as SpaceX, NASA, Tesla, Facebook and others that are changing the face of the world. We are an integral part of the success of industry in the region, and our research impact is considerable.
Employees of local companies seeking to return to school may take advantage of
delayed GRE exams with provisional admission;
flexible application dates;
rapid provisional acceptance with transcripts for students with engineering bachelor's degrees;
easy availability of undergraduate prerequisite courses; and
customizable programs for your company
Master's Programs
Master of Engineering Programs
Master's Programs
The College of Engineering at UTA was highlighted in Study International for outstanding research and a prime location.
Learn More