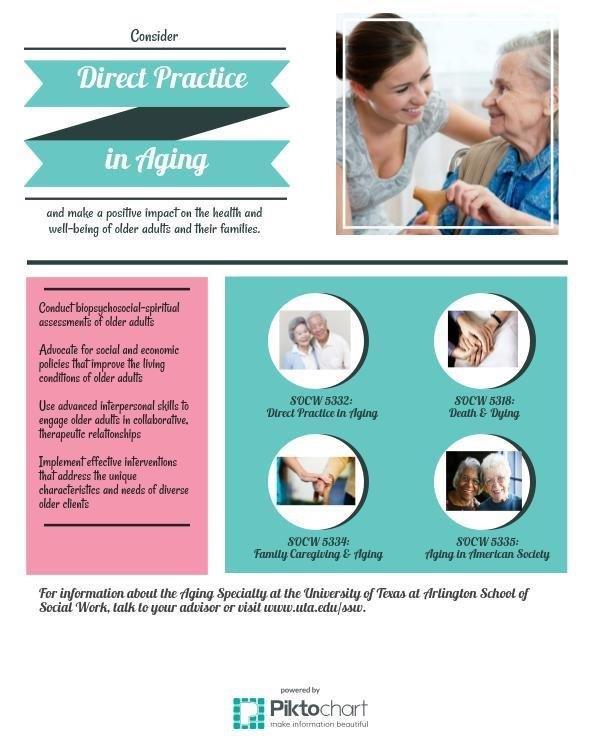 Direct Practice in Aging
The Direct Practice in Aging specialty provides advanced social work students the opportunity to work at the micro and macro level to develop and implement effective interventions, programs, and policies specific to the unique needs of older adults and their family caregivers. They partner with practitioners and community agencies to improve the lives of older adults by evaluating, selecting, and implementing appropriate assessment, intervention, and evaluation tools for use with diverse older clients while using interpersonal skills to engage older clients in collaborative, therapeutic relationships.
Noelle Fields and Ling Xu, assistant professors in UTA's School of Social Work, partnered with the non-profit community organization The Senior Source in Dallas to develop an innovative training program for Alzheimer's caregivers. For more information
The Direct Practice in Aging specialty is offered in a full-time online cohort format.
Semester/Year
Direct Practice - Specialty in Aging
Fall
Advanced Micro Practice
SOCW 5311


Builds on the generalist perspective and the basic familiarity with social work processes (such as problem identification, assessment, contracting, plan implementation, and outcome evaluation) in the context of (1) existing psychosocial intervention modalities, and (2) the particular client characteristics that lend themselves to specific change modalities. Required of all Direct Practice students. Prerequisite: SOCW 5304, SOCW 5681, and SOCW 5281.
Direct Practice with Aging
SOCW 5332


Course presents an overview of current issues in the care, treatment, and delivery of social services to the aging. Students learn practice procedures designed to equip them with the skills needed for effective social work practice and review major theories on aging. Co-requisite: SOCW 5311.
Research and Evaluation Methods II
SOCW 5313


Advanced course in the application of research principles and techniques. Topics include regression and statistical control, analysis of variance, questionnaire construction, evaluation research, and computerized tabulation and analysis of data. Mini-projects require the student to apply these techniques in the context of social work practice. Required of all students.
Additional Description: Building on previous courses, particularly Research I, in this course an evidence informed approach to social work practice and the delivery of human service program is emphasized. In this course quantitative and qualitative research methods and commonly used statistical procedures and approaches are applied to the evaluation of social work practice interventions and the evaluation of human service programs. These research skills and knowledge are presented from the perspective of promoting diversity and social and economic justice in the evaluation of social work intervention and the delivery of human service programs.
Stress, Crisis and Coping
SOCW 5316


The impact of specific crises on individuals and families will be examined. Typical crises will include life-threatening illness, trauma, physical and mental disability, and death. Assessment and evaluation of an individual's coping ability and appropriate strategies for social work interventions will be studied. Prerequisite: SOCW 5311; SOCW 5362 or concurrent enrollment; or SOCW 5352 or concurrent enrollment.
Spring
Aging Policy and Social Justice
SOCW 5343


Social welfare policies and programs are examined in terms of the overall impact on the aged and society. Needs and gaps in services to the aged are evaluated, especially concerning minority and low-income aged. Current issues in aging policy are examined. Prerequisite: SOCW 5303.
Family Caregiving and Aging
SOCW 5334


This course will give students an overview of the individual and social impact of family caregiving and aging within a bio-psycho-social context and the role(s) of social workers in helping individuals, families, and communities face the contemporary challenges of caregiving. Course content will be underscored by a strengths-based framework and will include the effects of culture on family caregiving, families' process of providing care to persons with chronic and/or complex illness across levels of care (e.g. hospital/rehabilitation/hospice), working with family caregivers within long-term care settings (e.g. nursing homes), dementia caregiving, end of life care as well as evidence-based assessment and intervention with family caregivers. Social services and policy that social workers need to know in order to practice effectively with older adults and their family caregivers are discussed. Innovative approaches for addressing challenges in family caregiving (e.g. technology) are also explored. Particular attention is given to issues of family caregiving faced by diverse, marginalized, and oppressed populations.
Death and Dying
SOCW 5318


This course will give students an overview of the principles of thanatology from anthropological, sociological, psychological, medical, historical, spiritual, cultural, and political perspectives and the role(s) that social work can play in helping individuals, families, and communities to face death and loss across contexts. Using life course and life span approaches, course content will include personal death awareness, the integration of theoretical perspectives and evidence-based practice interventions in working with dying, death, and bereavement with emphasis on cultural and religious/spiritual perspectives, bioethical principles and end of life decision making, social justice, and advocacy for the dying. Therefore, the class content promotes individual self-reflection and discussion of diverse views across the developmental life span and life course about the meaning of life and death and implications for social work practice. This dialog is a precursor to engagement with clients, caregivers, grieving persons, and health care personnel about sensitive issues around the experience of dying and death. Co-requisite: SOCW 5311
Social Work in Managed Care
SOCW 5344


This course explores the history of managed care in health and social services, as well as current topics and practical applications. It covers the underlying philosophy, current trends, and practice issues in fields including health care, aging, behavioral and mental health, and child welfare. The course involves students in assessing the potential for conflict between social work values, ethics, and managed care systems. The course builds skills for administrative roles in managed care settings.
Advanced Field (SPLIT)
SOCW 5482


Practical application of social work skills in real world environment. Student is assigned to field agency to enhance and practice learned theories. This course is 240 hours of direct client contact in agency setting as provided by the Field Experience Office. Prerequisite: SOCW 5681/5281 and SOCW 5311
Summer
Advanced Field (SPLIT)
SOCW 5483


Practical application of social work skills in real world environment. Student is assigned to field agency to enhance and practice learned theories. This course is 240 hours of direct client contact in agency setting as provided by the Field Experience Office. Prerequisite: SOCW 5681/5281 and SOCW 5311.
Aging in American Society
SOCW 5333/5335


This course presents the major theories of aging, in the United States and across cultures, and explores the diverse factors of aging from various perspectives including psychological, biological, sociological, and spiritual. Theories are integrated into practice thus providing students a sound foundation for social work practice with older adults. Students develop skills for completing multi-dimensional assessments, and effective social work interventions with and on behalf of older adults. Prerequisite: SOCW 5301 and SOCW 5307.
Integrative Seminar
SOCW 5395


The Integrative Seminar provides students with a learning experience aimed at demonstrating the ability to articulate, consolidate, analyze, evaluate, apply and synthesize research, theory, knowledge and skills learned in the course of their professional graduate education in social work. The perspective undergirding this seminar is that professional social work practice requires the mastery of a substantial body of social work and social science knowledge, skills, and values/ethics, with application to all levels of client systems: micro, mezzo and macro as well as administration of human service programs. This course is required of all non-thesis students in their final semester of coursework. A grade of C or better must be earned in this seminar to pass. If this requirement is not met, the student must repeat the course.
GET IN TOUCH WITH SSW ADMISSIONS
Dolores Bevins
Admissions Counselor II
Email: doloresbevins@uta.edu
Phone: 817-272-1044
Office: SWSH 203Q
Darlene Santee
Manager for Recruiting and Admissions
Email: santeed@uta.edu
Office: SWSH 203U
Brianna Gibbs
Academic Recruiter
Primarily Undergraduate Admissions
Email: brianna.gibbs@uta.edu
Phone:817-272-2551
Office: SWSH 203O