TERRY FOUNDATION SCHOLARSHIP
Terry Foundation Scholarship
The Terry Foundation Scholarship Program provides scholarships for Texas residents to support their goals of earning a college degree. The Terry Foundation supports students who demonstrate leadership, academic achievement, and financial need. The University of Texas at Arlington has been a proud partner with the Terry Foundation since 2015. For more information on the Terry Scholarship at UTA, check out this infographic.

The Terry Scholarship program is for incoming freshman students. Through this program, taking into account other scholarships and grants, the Terry Scholarship covers the full cost of tuition, fees, books, and on-campus living expenses. It also provides an opportunity for an additional stipend to support study abroad.


UTA TERRY SCHOLARSHIP
UTA will begin accepting applications on November 6th. Apply here.
ABOUT THE TERRYS
Despite a series of remarkable successes in business endeavors in many fields, Howard Terry often referred to the Terry Foundation as his finest achievement.
Learn more at the terry Foundation Website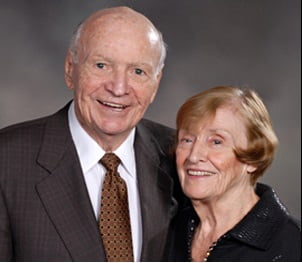 A Legacy of Support
Currently the state's largest private source of scholarships at 13 Texas public universities, the Terry Foundation has assisted more than 5,600 Texas college students since its inception in 1986. Howard Terry, who started the Foundation with his wife, Nancy, was so grateful for the financial assistance he received to attend college that he dedicated his time and resources to giving future generations of Texans this same opportunity.

Today, the Foundation Board oversees a perpetual endowment that provides college scholarships for students who have demonstrated the capacity to become outstanding future leaders and who need financial assistance to achieve their educational goals.


Howard L. Terry
Native Texan Howard L. Terry was born in Milam County in 1916. He attended the University of Texas at Austin on an athletic scholarship and worked at Procter & Gamble after graduation. In 1942, Terry entered the U.S. Navy, serving as a P.T. Boat commander in the Pacific during World War II. He later returned to Procter & Gamble, from which he was recruited to set up a chain of appliance stores. In 1951, Terry went into business for himself in lumber, building, and development, and built several residential subdivisions in Texas and other states.

Over the following years, Terry founded several businesses, including Business Funds, Marathon Manufacturing, Crutcher Resources, Allied Bancshares, and Farm & Home Savings. Beginning in 1979, he became a director and chairman of the executive committee of Penn Central Corp., a position he held until 1986. In 1981, he founded the Terry Companies, a multi-state corporation involved in oil and gas exploration and development.

Howard Terry's long and successful life came to an end in 2012 at age 95. In keeping with his own prediction, he maintained regular office hours and was active in the management of the Foundation until the very end of his life. His legacy was celebrated at a memorial service in Houston attended by a crowd estimated at 1,000.


Nancy Terry
Nancy Terry was a New York native, born in Ogdensburg on the St. Lawrence River. She attended the School of Nursing at the University of Rochester, where her hobbies included snow skiing, ice skating, swimming, and antique collecting. She subsequently relocated to Texas and was married to Howard L. Terry for over forty years.
Participating in Foundation activities for many years, Nancy Terry passed away peacefully at home in October 2012 at age 85. She will always be remembered for her candid photos of the Scholars at Foundation events and for her life-long interest in the scholarship program that bears their name.
A RECORD OF LEADERSHIP
Terry Scholars are selected by the Terry Foundation based on three criteria: demonstrated leadership, academic achievement, and financial need.