Master of Public Administration
The program strengthens public decision making and the delivery of public services in a globalized and diverse society.
A+ for the MPA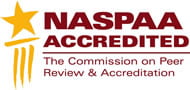 CAPPA's MPA program is accredited by the NASPAA Commission on Peer Review and Accreditation and listed on the Annual Roster of Accredited Programs in conformity with NASPAA standards.
Mission Statement
The mission of the Master of Public Administration program is to strengthen public decision making and the delivery of public services in a globalized and diverse society by educating students to lead and manage organizations at all levels of government and nonprofit institutions ethically, democratically, and effectively.
Program Overview
The MPA at UTA is the largest enrolled accredited program in Texas and #15 in the USA with good reason. All three MPA programs for a masters are campus, online, and a city cohort. Our MPA programs are fully accredited by NASPAA - the international accreditation body for the MPA. Set in the dynamic Dallas-Forth Worth region, the on-campus and accelerated online programs offer tremendous opportunities for practice and learning. The unique intermix of city planning, public policy, and architecture in the program's home college (CAPPA) creates significant unique opportunities for students to co-create urban, ecological, and social fabrics.
Program Director: Dr. David Coursey
For more information about our graduate programs, please complete the information request form or email info@pad.uta.edu
Why Public Administration?
Public Administration is concerned with the formulation, analysis and implementation of public policy in urban institutions. With an inter­disciplinary focus, this program gives special emphasis to the urban community and the special challenges of public managers who serve in urban areas.
The curriculum is designed to develop leadership capacity, understanding of the political, social, and economic characteristics of today's urban environment and the ability to apply current theories of management and analysis to difficult management issues.
The program is meant as preparation for those entering management careers in gov­ernment for the first time or as career development for those already employed who are seeking upward mobility in public management.
Understanding the value of the MPA
UTA MPA Graduate Median Salaries for Texas Residents reported by SeekUT:
$63,000: one-year post-graduation
$75,000: five years post-graduation
$95,000: ten years post-graduation
The 10-year median is the highest among all UT-system MPA programs.
UTA MPA Rankings: As the 15th largest enrolled U.S. program, the MPA at UTA is among the highest-ranked programs in the public administration field.
UTA MPA Rankings
The MPA at UTA is among the highest-ranked programs in the public administration field.
#1
Top 50 Online MPA Programs
(intelligent.com, 2019)
#9
Top 30 Online MPA Prgrams
(onlinecollegeplan.com, 2019)
#15
Best Value MPA Programs
(valuecolleges.com, 2019)
Top 38%
Best Public Affairs Programs
(U.S. News & World Report's, 2018)
Best MPA
Careers in Urban Management
(onlinemasters.com, 2018)
#23
Online Program (among accredited schools)
(onlinemasters.com, 2018)
#9
Most Affordable MPA (among accredited schools)
(onlineeu.org, 2018)
#41
MPA Ranking
(topmanagementdegrees.com, 2018)
#10
Online MPA Program
(greatvaluecolleges.net, 2018)
#11
Online MPA Program
(mpadegree.org)
MPA Graduate Job Industry Examples from AY 18-19 Graduates (82 total):
• Local/Regional Government (28)
• Nonprofits (11)
• Private Sector (11, 7 in research and consulting)
• State Government (8)
• National Government (8)
• Military (3)
• Unemployed (3, of which 1 is seeking employment)
• Further education (3)
• International (1)
• Unknown (6)
*Most of our students have existing jobs and obtain the degree towards seeking increased career opportunities.
As of Fall 2020, there were 247 students in the MPA program (33 campuses, 189 online, and 25 city cohort) with approximately 91% part-time students (viz., taking fewer than 9 hours a semester). This makes UTA the 15th largest MPA U.S. program. For the 85 AY14-15 initially enrolled students, 11% completed the degree within two years, 59% in 3 years, and 68% in 4-years (and 73% later or still in the program). Since AY14-15, the programs have been restructured to better fit part-time students such that expected graduation timelines are shorter. A part-time student can finish the campus or accelerated online program in 6-7 semesters and, using summer classes, as early as two calendar years.
ACCELERATED ONLINE MPA
The accelerated online MPA 39-credit hours (with internship waiver) provides a convenient, flexible way for working professionals or recent graduates to earn their MPA degree regardless of their schedule or location, without sacrificing academic quality. Students are not required to attend the campus at any time (and online students cannot take campus classes). The program is designed to be completed in seven semesters by part-time students. Students sequentially take two eight-week courses per term except in summer where courses are taken simultaneously for a five-week overlap and for the final course capstone project which is sixteen weeks. The online program does not have emphasis areas like the campus program. Instead, online students complete either a Certificate in Urban Nonprofit Management or Public Budgeting and Financial Management as part of their degree. For more details including courses, admission requirements, and costs, see our accelerated MPA program website or call our enrollment specialist at 866-489-2810.
Accelerated Online MPA
CITY COHORT
The city cohort program mixes daytime classes at city government locations (currently Grand Prairie and Arlington) with online learning. The 39-hour program (with internship waiver) is tailored to city management and includes an emphasis in economic development and urban management. Sequential, eight-week courses are offered on Friday, 3-6 PM. Participating cities provide worktime for the onsite classes.
City Cohort Program
On-Campus MPA
The program is designed to be completed in five semesters by full-time students and either six or seven semesters by part-time students (includes summer terms). The determining factor for 6-7 semesters is whether the student takes the capstone 5399 with two other courses their last semester. Sixteen-week courses are offered Monday through Thursday from 6:00-8:50 PM in Fall and Spring and from 6:00-9:50 PM during the shortened eleven-week Summer semester.
On-Campus MPA Program
Admission Information
There are two different application forms depending on whether you are interested in the campus or online program. For more admission information click below.
Admissions
UTA MPA Graduate Median Salaries for Texas Residents reported by SeekUT:
$62,000: one year post graduation
$73,000: five years post graduation
$95,000: ten years post graduation
The 10-year median is the highest among all UT-system MPA programs, including the LBJ School at the University of Texas and tied for 1st with UT-Dallas for 5-year ($73,000)