City Cohort MPA
The 39-hour city cohort program mixes daytime classes at city government locations with online learning tailored to city management and includes an emphasis in economic development and urban management.
ADVISING
APPLICATION QUESTIONS
Contact MPA Advisor
Karolyn Field is the graduate advisor for the Masters of Public Administration program.
Phone number: (817) 272-5008
Email: kfield@uta.edu
Schedule an Appointment
PROGRAM OVERVIEW
Earn your MPA degree just steps from City Hall at UTA Fort Worth. Combining a convenient schedule of face-to-face classes and online learning, city employees will benefit from maximum flexibility and a program designed to combine both academic and practitioner knowledge. The new MPA City Cohort is a partnership between the City of Fort Worth and The University of Texas at Arlington.
Program Advantages
At UTA's conveniently located downtown Fort Worth Center
Classes meet once per week - Friday 3 pm to 6 pm (employer approved)
Taught by UTA Faculty and City Managers
A practical perspective tailored to Fort Worth's city management career
Use employee tuition reimbursement benefit plus additional financial aid (if qualified)
Focus on one course at a time
Required Core Classes (30 hrs)
PAPP 5302 Foundations of Urban Research and Analysis
PAPP 5309 Intergovernmental Relations
PAPP 5320 Public Organization Theory
PAPP 5326 Public Budgeting
PAPP 5329 Financial Management in the Public and Non-Profit Sectors
PAPP 5345 Evaluation Research
PAPP 5350 Public Administration
PAPP 5351 Public Human Resources
PAPP 5358 Ethics in the Public Service
PAPP 5399 Public Administration Capstone
Economic and Sustainability Emphasis
PAPP 5321 Urban Management
PAPP 5334 Managing Economic Development
PLAN 5363 Leadership and Communication
---
COSTS
33 months | 39 credit hours in 8-week or 11-week course with $7,100 tuition after reimbursement.
Sponsoring local governments reimburse most tuition and fees. For example, a City of Fort Worth employee can complete the degree for $7,100[1] after up to $5,250 a calendar year in reimbursement. Employees may also apply for additional financial aid (e.g., veteran's benefits) as qualified.
***Estimate based on Fall 2021 tuition rates for in-state students after City of Fort Worth tuition reimbursement. see HR Staff for details.***
---
NEXT STEP
Attend an upcoming information session – REGISTER HERE
CONTACT US
RECRUITMENT QUESTIONS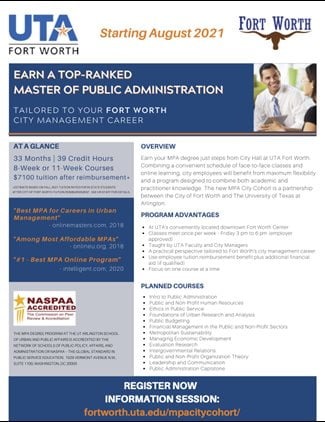 Learn About the City Cohort Program
Contact the listed faculty or click on the flyer to learn more.
James Brown, Academic Recruiter
Email: james.brown2@uta.edu
Phone: (817) 272-5750
Text: (855) 202-6815
Dr. David Coursey, MPA Program Director
Email: dcoursey@uta.edu
Daisy Valk-Lopez, Recruitment Coordinator
Email: daisy.valklopez@uta.edu
Phone: (817) 272-5956
Schedule an Appointment