Dean's Welcome
Learn more about the dean and her ambitions for the CAPPA department in her Welcome Message.
THE DEAN'S MESSAGE
Welcome to the College of Architecture, Planning and Public Affairs, better known as CAPPA. We are at an exciting moment as we continue to re-imagine the built environment, the design of buildings, their interiors and landscapes, while addressing sustainability, public policy, and equity. As an interdisciplinary college, CAPPA brings together the disciplines of Architecture, Interior Design, Landscape Architecture, Planning, Public Administration, and Public Policy to impact the communities in which we live. We encourage our students to learn from a variety of fields as we tackle complex urban and rural problems with new perspectives shared through partnerships across campus, other universities, industry partners, architecture firms, nonprofits and community partners.

CAPPA is on the rise as a result of faculty that engage with physical and social issues as researchers and practitioners, and a growing undergraduate and graduate student body that represents our regional and global reach. Our commitment to the well-being of our environment through research and design is evident as we launch two new degrees in high demand fields: a B.S. in Sustainable Urban Design, and an M.S. in Sustainable Urban Building Technology.

We are committed to actively engaging our students in using the latest technology and practices, as we prepare future professionals to navigate a much different world. Fostering creativity and research through our new Virtual Reality Lab in collaboration with the Art + Art History Department, and a new Design-Build Studio in Arlington that provides new spaces, equipment and opportunities for local collaboration, are some of the ways that we seek to inspire, motivate, and educate students to pursue excellence in academic scholarship, design practice, creative thinking and critical reflection. I look forward to welcoming you to our dynamic college.
---
ABOUT INTERIM DEAN MARIA MARTINEZ-COSIO, PH.D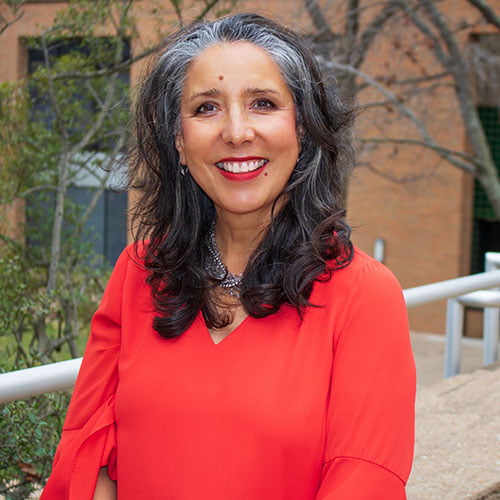 Dr. Cosio is currently engaged in a 3-year project with researchers and foundations from Canada and the U.S on place-based change led by philanthropies. A book presenting 10 transnational case studies is scheduled to be released late summer 2022. Her previous book, Catalysts for Change: 21st Century Foundations and Community Development (2013), published by Routledge Press and co-authored with a colleague from UC San Diego, presents an overview of innovative approaches, the challenges and positive outcomes of comprehensive community change.
Dr. Cosio served in the provost's office for seven years before stepping in as interim dean for CAPPA, the College of Architecture Planning and Public Affairs. She led a number of campus-wide projects including the campus' transition to Canvas and led a number of faculty professional development efforts. As a first-generation college graduate, and in keeping with her commitment to underserved communities, Dr. Cosio also led a team of faculty and staff at UT Arlington that successfully applied for the university's first Hispanic Serving Institution grant, totaling $2.6M was awarded in October 2015.
Read her full research profile.